This information taken from: Boat Show on the Interne
t
- no longer an active site.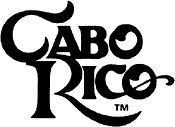 The Cabo Rico story is one of dedication, hard work and unique circumstance that started many years ago with a love for yachting, and florishes today, because of a constant obsession with quality in true ocean-going yachts.
It began with a sailor's hobby in the corner of the British Leyland assembly plant. But the location would provide Cabo Rico with its unique blend of talented craftsmen, superb climatic conditions, and access to the finest raw materials for yacht construction. The place was the city of San Jose, in Costa Rica.
Costa Rica is a beautiful, politically stable country, located only 2 l/2 hours by air from Miami. Like Canada, Costa Rica has been a democracy for over 100 years and has long been the shining example of stability. Its history goes back thousands of years, but since its discovery by Christopher Columbus, it has been populated mostly by people of European origin, primarily Spanish. Costa Rica is a declared neutral country with no armed forces. It boasts of a happy, healthy population who enjoy a low crime rate, a 93% literacy rate, an excellent government medical system available to all, low unemployment and nationally funded education through university.
It is in this atmosphere that the factory was established in 1965, and in which the skilled craftsman required to build the finest yachts were found. Today, Cabo Rico's staff are famous for the pride they take in both what they do and the company they work for. With an average tenure of almost fifteen years, Cabo Rico truly has the best of both worlds. High quality U.S. materials combined with a very experienced labor force. A combination that sets a Cabo Rico built yacht apart.
The factory does not use outside contractors to supply manufactured parts for Cabo Rico's yachts. Consequently, Cabo Rico's extremely high quality control standards can be rigorously maintained in all areas of construction.
Cabo Rico's 100,000 square foot facility includes wood drying kilns, rough lumber milling area, wood working shop metal shop, large and small part fiberglass departments, cushion loft, general assembly and final detail areas. Computer systems are used extensively to monitor manufacturing and streamline parts purchasing and handling.
The best techniques and materials are used in both solid and composite fiberglass construction including: various cloths, resins, coring materials as well as hand lay up and vacuum bag processes.
The Cabo Rico manufacturing facility is so respected by the industry, that there are frequent requests to build for other quality American and European manufacturers.
The very finest raw materials are used, essentially all of which are purchased in the United States by Cabo Rico's purchasing, sales, marketing and distribution center in Ft. Lauderdale, Florida. The exceptions being smaller lead ballast castings and Cabo Rico's plantation grown teak, the lighter, warm color of which has become a Cabo Rico trade mark.
Cabo Rico also uses the finest yacht designers instead of an "in house" designer trying to be all things to all boats. Crealock, Ellis, Pedrick, Tripp, Paine, Hunt and others, backed up by Cabo Rico's team of engineers and interior planners.
Cabo Rico is privately owned and operated by Canadians, Fraser and Edi Smith and as an export producer in Costa Rica, the company works only in US dollars. They build their beautiful Cabo Rico line of cruising yachts and the Cambria line of cruiser/racers, their new Northeast motorsailers, plus the Chase 28, 38 and 44 power yachts. In 1995 they started building the classic Gamefisherman line of custom sportsfish boats.
The finest materials and craftsmen and their long history and dedication to quality, allows Cabo Rico to build superb yachts and extend to its owners one of the finest warranties in the marine industry today. As one owner said recently, three years after his purchase of a Cabo Rico, "every day aboard this boat reaffirms my original decision to buy a yacht from Cabo Rico".